Web searches on "Ronald McDonald" and "Ronald McDonald history" have jumped over the past week. Lookups on "Ronald McDonald actors" have also surged. Those who want to know more about the famous mascot will find no shortage of online information on the character.
One of the first actors to play Ronald was none other than Willard Scott. Scott would later go on to be a TV weatherman on NBC's "Today" show; he congratulates his viewers on the air when they hit 100 years old. Another relatively famous fella who donned the red wig and yellow suit: actor Squire Fridell. Children of the '80s may remember him as Toyota Man from the long-running "Oh, what a feeling" commercials.
But Ronald is bigger than any one actor. Below, check out Mr. Scott in the first Ronald McDonald commercial. It was an odd beginning for a character who would go to become one of the world's most recognized (if not beloved) corporate mascots.

...source : Yahoo
Yup, definitely creepy. That's probably the beginning on how people got freak out by clowns. Ronald McDonald sure had come a very long way to look like he is now.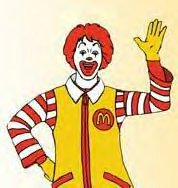 glitter-graphics.com
So glad he did.