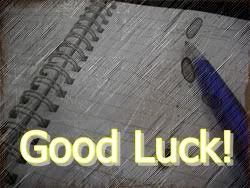 My first paper is tomorrow (5th April), ODL Skills, the second one on 7th April, English For Oral Communication and the last one is on 11th April, Educational Psychology. I'll be taking the exam at Jitra instead of S.P. as it's nearer and we're allowed to request for change of location.
So I'm already going to take my final exam! Wow, I can't believe how fast the time move. Like I always say, time move like crazy. It was like yesterday I registered to be a student again. Can you believe it?
So good luck to all! (even to you Nizaa as you'll be taking your final exam too soon) Do your best and pass with more than flying colours!