*
After attempts of trying to contact SaifulSham consultant (a.k.a ecommercemastery), I managed to get through. Then the support guy gave me the url that I should go to to login (why didn't they include it in the email? does everyone know before they learn???) I tried to login but I make mistakes with the password, I had to send email requesting for reset. The support guy is nice actually (or should I say, their support service is good) Not just he did as I asked him to, he also provided me with an ebook as guidance.
I tried again with the password but I stil get this :
this really is embarassing...

I think I need to confirm this before I tried login again...
*
Mak asked me to drive her to Kulim (Labu Besar to be precise) yesterday. Instead of taking the highway, we used the old road (jalan kampung and jalan lama la...) Sungai Tiang-Kalai and roads that I hardly recognize as I didn't know the way. That was a very big mistake!!! The roads are fill will holes! Not just any holes but each is deep and big. It so hard to avoid. As the result, my car got scratches! One is pretty big! I can polish it off but it still annoying. The DO of the districts need to do something about that.
* The beeping sound has return. It's not from my speaker, it's my CPU! (my speaker did make the sound) When it happens, my keyboard stop functioning and it won't stop unless I turn off the CPU.
*
Another case of laptop battery recalled
. Well, I guess this can be avoidable at a time. The ones that were called are brands include Dell, HP and Toshiba that were using sony-made batteries (notebooks with 2.15Ah battery packs). Some of the laptop even produce smoke and even flame (wow~~~ really wow~~~) Talk about how scary a computer can be. Ah well, I am not even using laptop anymore.
*
Click-jacking?
Well its a term use to describe hijacking to your pc when you click harmless buttons on the net. For example, you click on news button but you may activate your webcam. It could be scary. It targetted more popular web browswers (ie : Firefox, IE, etc) so you need to install most add-on protection you can find. According to the news, the less popular web browsers are safer (uh, I can't name any...)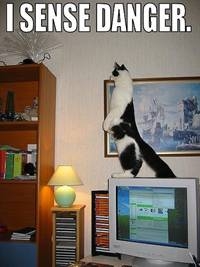 glitter-graphics.com